Need a short-term action plan to map out your next steps, let go of limiting beliefs, emotional blocks or simply want to improve your focus and create momentum towards your success?
Then the 30-Day Breakthrough Intensive is for you.
Feeling stuck on your entrepreneurial journey, or not getting your desired results just yet? Are you ready to up-level and something is holding you back from taking the next step in your life and business?
Have you been spinning your wheels for a little bit or maybe you're stuck and can't figure it out on your own? Either way this delay is costing you is time, money and energy.
Let's look at what's really going on and what needs to be done to get you back on track!
This powerful Intensive Experience is designed to do just that. It'll give you the kick-start you need so that you can get un-stuck and move forward in your life and business to reach the goals you've set for yourself so that you can create a life and business by design that is based on your core values.
You'll immediately receive a comprehensive welcome pack so that I can learn about your business and what you're looking to achieve before our first deep dive session
2-hour Deep Dive – A private coaching call with me where we laser in on the specific problem or obstacle you're facing
Two 60-minute follow up session to support and guide you with implementation
Unlimited Email Access to me for the duration of the program starting from the day of your Deep-Dive session
Option to Upgrade to Catalyst – my private 4 months mentorship program
6 Weeks to Master Your Message Digital Course – Get immediate access to all 6 audio recordings of the digital version of my signature group program and discover how to get crystal clear on what your audience is willing and able to buy from you, how you can create an irresistible offer and get ready to turn up the sizzle on your message so that you can make the sale and grow your income.
"I overcame my fear of not being enough."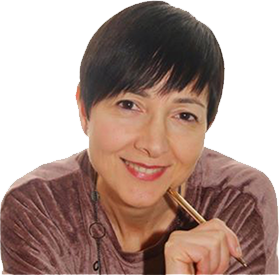 Before we started I felt overwhelmed and insecure, I knew I wanted to help my business grow but I didn't know what to do exactly. We worked deeply on my desires, my fears, my limiting beliefs. Simona helped me set my goals and find what my next steps are. Our sessions also helped me to become more aware of my value and how I differentiate myself from my competitors. Now I feel I have the right tools and the right confidence to move forward. I feel more focused and know what to do next. I've overcome my fear of "not being enough".
Antonella Cafaro, Owner, Assistenza Virtuale, Bologna, Italy
Would you like more information or have questions if this is right for you?